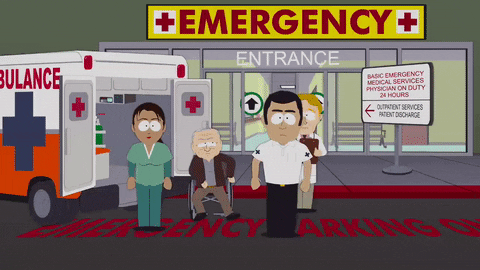 March is just a few days away. And if you haven't gone to the ER yet for your New Year's resolutions, it's about time. 
Now, I'm not talking about going to the actual ER as you may have guessed. What I am talking about is utilizing the often forgot about E & R that are a part of the SMART goal setting acronym.
Here's a refresher for what that acronym stands for. When you are creating a goal for yourself, you can compare it to a series of reflections that can help you assess if the goal will stand the test of time and get you to the finish line. First things first. Ask yourself, is your goal:
Specific. Instead of setting a vague goal like, "I want to lose weight," you want to phrase it in a way that is more defined. That same weight loss goal could be rewritten to say, "I want to lose 10 pounds." Now, it's specific.
Measurable. In the case of weight on the scale, you're in luck. But what if your goal is to eat healthier. You can first make it more specific by saying, "I want to eat more fruit." Now you can make it measurable by saying, "I would like to eat two servings of fruit every day." Voila! 
Attainable. Is it really doable? I meet with some people that have unrealistic goals for weight loss or physical activity. Or in some cases, they want to transition from a highly processed foods diet to completely clean eating. I'm not one to discourage people from aiming high, but adjusting your goal to something achievable can ensure greater success. 
Relevant. This one is a big one. Is it relevant to your health or life? Or as I like to ask, does this mean something to you? Perhaps you can frame your goal around a specific event or occasion. Is there a vacation coming up? A doctor's appointment that you're concerned about? When you can make your goal relevant to your life, you are more emotionally attached which can aid your will power. 
Time-bound. If you don't have a deadline for your goal, you may not reach it. This hold yourself accountable to you and can help you maintain a point of reference for the achievement of your goal.
Now let's get back to the ER. This is often the key to success for many of the people that I work with. What if your goal isn't working out quite like you had planned? What if you have only accomplished 50% of what you intended? Or even less? That's okay. Here's what you can do.
EVALUATE. Often times, those initial goals that we set may have not been so realistic after all. Or maybe they didn't really strike a chord that we felt connected to. If that's the case, it's okay to evaluate your goal to see if can be scraped all together or perhaps rewritten or re-committed to. 
REWARD. Ah, often one of the most important parts of a goal because we are so stinking hard on ourselves. Listen, if you do one thing well that gets you closer to your goal, pat yourself on the back. Give yourself a high five. Talk to yourself like you would talk your best friend. 
At the end of the day, goal setting should be inspirational and stir happy, positive feelings. If it feels like a sentence or a punishment, then you know you don't have to right goal yet. Not sure how to write a goal that inspires? Let me know and I can help.
Please reload